Jonathan was born on August 31, 1967 in Waterloo, Iowa the son of John T. and Gretchen (Raab) Lyons. He graduated from Columbus High School, Waterloo, IA., and received a B.A. in English from the University of Iowa in 1997, and an M.F.A. in Creative Writing from California College of the Arts in 2005. He served as an adjunct assistant professor at Bucknell University in Lewisburg, PA from 2005-2016, and during these years he occasionally also taught as an adjunct instructor at Susquehanna University in Selinsgrove, PA. He was a gifted teacher and always enjoyed working in the classroom with undergraduate college students. While at Bucknell University, Jonathan was also especially proud of his work with students in the Posse Scholars Program.
As a creative writer, his writing has appeared in the Journal of Experimental Fiction, Hotel Amerika, Exquisite Corpse, and elsewhere. He received an MFA from California College of the Arts in 2005. He is the author of Minnows: A Shattered Novel (2013), which involved cutting up and rearranging blocks and columns of text, hanging those on walls throughout the basement, and then striving to bring this exploded narrative into a coherent whole.
Jonathan passed away on Saturday, December 14, 2019 at the University of Iowa Hospitals in Iowa City, Iowa, but is survived by a son Curran McLain Lyons of Lewisburg, PA., his father John T. Lyons, Waterloo, IA., and three brothers; Shaun (Mary) Lyons, Appleton, IA., David Lyons (Lisa Rastetter) Des Moines, IA., and Dennis Lyons, Waterloo, IA., with many nieces and nephews.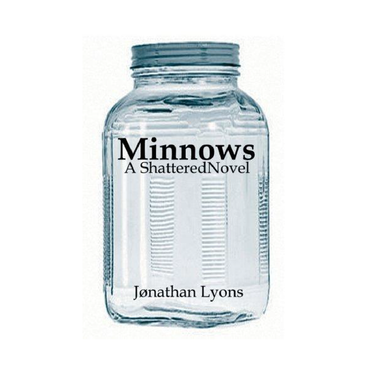 //www.experimentalfiction.com/cdn/shop/products/minnows-a-shattered-novel.png?crop=center&height=1000&v=1641450579&width=1000
Synopsis of the Novel, Minnows: A Shattered Novel In Minnows: A Shattered Novel, a child and his younger brother get out of school for the summer, only to have their world come crashing down around...