Bob Sawatzki's first professional credit was a story published in the Seattle Times Sunday Magazine. He has published fiction and non-fiction in literary journals, including Weber Studies, and alt-papers, such as Salt Lake City Weekly, along with editorials in mainstream newspapers including The Ogden Standard-Examiner and The Salt Lake Tribune. He has served on the Utah Arts Council Literary Committee, and his book Return to Circa '96 won the 2005 Utah Original Writing Competition and the 2014 Kenneth Patchen Award for Innovative Novel. He supports his writing habit by working at The Weber County Library, Ogden, Utah.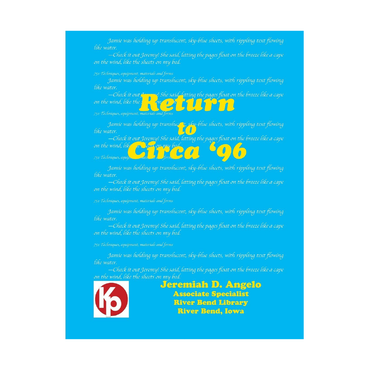 //www.experimentalfiction.com/cdn/shop/products/return-to-circa-96.png?crop=center&height=1000&v=1641450534&width=1000
Synopsis of the Novel, Return to Circa '96 Bob Sawatzki's Return to Circa '96 is a fantastical adventure through time, memory and humor. As the winner of the 2014 Kenneth Patchen Award for the Inno...